MUSHROOM SOIL – ANOTHER UNIQUE ITEM THAT ARTEX SPREADERS SPREAD!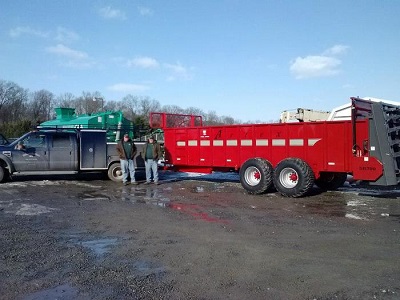 Every farming operation is unique, each with specific equipment needs. We enjoy meeting farmers around the country and hearing their farming stories. This story features a farmer in Pennsylvania who spreads mushroom compost using an Artex spreader. We love learning about unique materials that are being used in our manure spreaders and mushroom compost is just that!
Leslie lives in Chester County Pennsylvania. His farming operation is located just 20 miles from Kennett Square, the Mushroom Capital of the World! Being surrounded by mushroom farms gave Leslie an ingenious idea of using mushroom compost to fertilize his fields.
Mushroom houses in Leslie's area use a soil that is a combination of hay, straw, poultry litter and other organic materials. Mushrooms are planted in this soil in a controlled environment which is cool, damp and dark. These mushrooms houses will use that soil for 3-4 crops and then it needs to be disposed of! That's where Leslie comes in. The compost is hauled from the mushroom farm out to Leslie's field where he loads it into his new Artex SB700 spreader. A typical truckload is 20 tons and he applies at a rate of 20 tons per acre!
So how does Leslie benefit from using this soil? Mushroom compost is high in phosphorus, potash, gypsum, ammonium nitrate and lime. All of these nutrients are valuable to his corn fields. Plus, mushroom soil is a much less expensive alternative to commercial fertilizer. Leslie lives so close to these farms that he is getting the used compost for free! Others that live further away may incur some costs for transporting it to them.
In addition to the mushroom soil, Leslie plans to use his Artex spreader for poultry manure, which can be pretty soupy, but he is confident that his SB700 will work perfectly for both applications! Click here to read more about the SB series.
When asked why he decided to purchase the Artex Spreader…Leslie replied, "We demoed it first and really liked how it worked. The guillotine gate really impressed us too!" Leslie purchased his manure spreader from our dealer Cedar Crest Equipment.
THE SB600 MANURE SPREADER WORKS ON BOTH CATTLE AND POULTRY MANURE
We are pleased to share information about another satisfied customer! The Sellner family from near Sleepy Eye recently purchased our SB 600 Manure Spreader.
The Sellner's wanted a demonstration of how our vertical beaters would spread turkey manure. Being a lighter material they were not convinced that turkey manure would be distributed well through the vertical blades. They, just like a number of people, were under the impression that vertical worked excellent with cattle manure, but nothing else.
After seeing the manure spreader in action, the Sellner's were convinced that the vertical beaters would easily handle their needs. With the SB 600, they will be able to use the manure spreader for both the dairy herd and the turkey manure on their farm. The SB spreader solved the issue of having to buy two separate spreaders to handle both jobs!
Click play to watch the video of our spreader with the vertical beater making easy work of turkey manure.
YOU DON'T NEED MORE THAN ONE SPREADER WITH ARTEX
I have been a custom applicator for 12 years now and have spread everything from pen pack manure and chicken litter to lime and rotten beets and even chemical and fuel spill sludge clean up. In that time I have tried just about every spreader that is on the market and have found that most spreaders are good for only one application. I could not use my lime spreader to spread manure and I could not use the manure spreader to spread heavy waste and sludge clean up or even litter. However, the ARTEX solved that problem. Now with one spreader, I can spread every single thing that farmers and industrial producers throw at me. It is amazingly simple to operate and with hired men, that is very important.
The ARTEX is also extremely durable. In over 2 seasons of heavy spreading, I have only had to replace some shear bolts on the driveline. We have had no problems with gearboxes, bed chains or any other part of the spreader and we have run rocks, chunks of concrete and even manhole covers through the spreader. I don't recommend this but in my line of work, we often get obstructions and that has been the downfall of most spreaders. However, the ARTEX handles these obstructions and keeps on spreading. The company and dealer support are also second to none and the company is committed to continually improving an already rock solid design.
I can honestly say that the ARTEX spreader has made my life much easier and has added many dollars to my bottom line. I would recommend to anyone looking to purchase a spreader to look into an ARTEX. I know they have can help you save time and money!
-Bryan Boll