Winter is Coming – Prepare Bedding & Move Manure With Artex!
October 24, 2014
Fields are being harvested, tree are losing their leaving and the air has a bit of a chill in it, these are all signs that winter is on its way. Like it or not it will soon be time to prepare your farm and animals for winter. It is important to have the right equipment for the job.
Spread Outdoor Bedding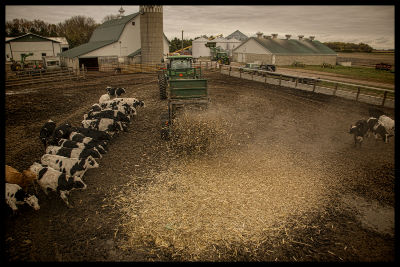 Keep your animals warm when they are outside during the winter by providing outdoor bedding. Spreading corn stalk bales for your herd to lie on is quick and easy when using an Artex manure spreader. Instead of moving the pack each time an area gets full with manure, simply spread another layer of clean bedding on top. The manure underneath heats as it decomposes, warming the cows from underneath.
This process works well, but of course it isn't maintenance free. When spring arrives the bedding and manure has to be removed, which means you will need a skid steer and a tough manure spreader. Artex spreaders are perfect for the job, their vertical beaters even pulverize manure clumps that are still somewhat frozen. Make sure your cattle also have a shelter from the wind, and plenty of water and feed.
Can you spread a corn stalk bale for bedding with an Artex manure spreader? I think so! Watch the video below!
Watch Artex Spreaders Get The Job Done – ANY Job!
Minimize Your Manure Pile & Fertilize Your Fields
At the end of the fall season, it is necessary to empty your manure storage to prepare for winter build up. If you do not have storage, you may need to leave a few low risk fields for winter applications. Artex spreaders' large capacity will make your manure pile disappear and wide tires will allow you to move effortlessly though the field.
During the fall it is beneficial to apply manure on:
Corn fields after silage harvest
Plowed fields post tillage
Chisel plowed land before or after tillage
Make sure to avoid spreading manure on no-till corn and reputable alfalfa fields.
Artex manure spreaders have a consistent spread pattern that tosses manure up to 60 feet! In the video above, you will see a noticeable difference when we compare our spread pattern to that of other spreaders. Don't miss an acre, apply manure to your entire field!
Start Spreading – Contact Artex
Do you need a spreader this tough? Well, that all depends on how often you like to buy them. Artex spreaders are built to last through any season and any job! Before the snow flies, contact Artex for more information.