Immerse Yourself in Agriculture – Visit Artex at the Big Iron Farm Show
August 25, 2014
Are you ready to be surrounded by all things agriculture and check out our tough spreaders and trailers? The Big Iron Farm Show is the largest farm show in the upper Midwest and it's coming up in September! Here's everything you need to know about the Big Iron Farm Show!
Show Events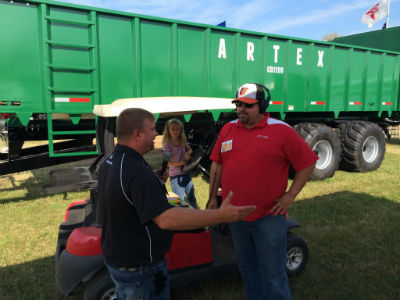 The Big Iron Farm Show offers training sessions, demonstrations and countless opportunities to connect with your peers, making it a premier event for agribusiness.
View the complete schedule of daily events.
Show Hours
Tuesday, September 9th – 9:00am to 5:00pm
Wednesday, September 10th – 9:00am to 5:00pm
Thursday, September 11th – 9:00am to 4:00pm
Exhibitors
Artex will be in good company at the Big Iron Farm Show! Search the exhibitor list with over 900 exhibitors expected. This list includes a website for most of the exhibitors so you can do some research before the show.
Don't forget to visit Artex in booth # W44!
Check out our CB1200 and SB700 manure spreaders on display at the show. Would be happy to meet with you about our products including our silage trailers and new high capacity, easy to load SBx series of spreaders.
Click here for a downloadable map of the show.
Location
Big Iron Farm Show
1805 Main Ave W
West Fargo, ND 58078-1301
The Big Iron Farm Show is located at the Red River Valley Fairgrounds, West Fargo, North Dakota.
Show Photos
Curious about what goes on during the show? Check out this photo gallery!
The latest advancements in agriculture are waiting for you at the Big Iron Farm Show! See you there!