Mushroom Soil – Another Unique Item That Artex Spreaders Spread!
March 28, 2014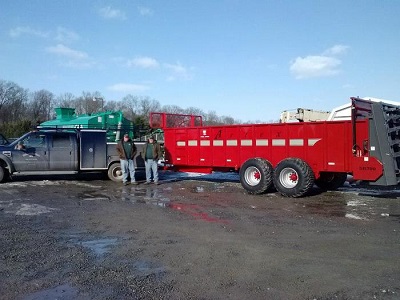 Every farming operation is unique, each with specific equipment needs. We enjoy meeting farmers around the country and hearing their farming stories. This story features a farmer in Pennsylvania who spreads mushroom compost using an Artex spreader.  We love learning about unique materials that are being used in our manure spreaders and mushroom compost is just that!
Leslie lives in Chester County Pennsylvania.  His farming operation is located just 20 miles from Kennett Square, the Mushroom Capital of the World!  Being surrounded by mushroom farms gave Leslie an ingenious idea of using mushroom compost to fertilize his fields.
Mushroom houses in Leslie's area use a soil that is a combination of hay, straw, poultry litter and other organic materials.  Mushrooms are planted in this soil in a controlled environment which is cool, damp and dark.  These mushrooms houses will use that soil for 3-4 crops and then it needs to be disposed of! That's where Leslie comes in. The compost is hauled from the mushroom farm out to Leslie's field where he loads it into his new Artex SB700 spreader.   A typical truck load is 20 tons and he applies at a rate of 20 tons per acre!
So how does Leslie benefit from using this soil?  Mushroom compost is high in phosphorus, potash, gypsum, ammonium nitrate and lime.  All of these nutrients are valuable to his corn fields.  Plus, mushroom soil is a much less expensive alternate to commercial fertilizer.  Leslie lives so close to these farms that he is getting the used compost for free!  Others that live further away may incur some costs for transporting it to them.
In addition to the mushroom soil, Leslie plans to use his Artex spreader for poultry manure, which can be pretty soupy, but he is confident that his SB700 will work perfect for both applications!  Click here to read more about the SB series.
When asked why he decided to purchase the Artex Spreader…Leslie replied, "We demo'd it first and really liked how it worked. The guillotine gate really impressed us too!" Leslie purchased his manure spreader from our dealer Cedar Crest Equipment.
Tell us your unique farm story! Perhaps you have a unique material that you spread?  We would love to hear about it below.