Meet With Fellow Farmers & Artex At Canada's Outdoor Farm Show
August 26, 2014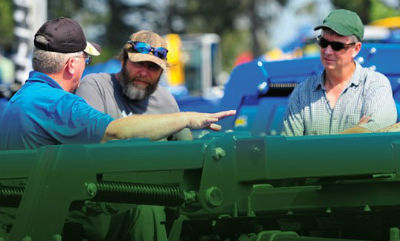 Artex is heading north! We are looking forward to meeting with Canadian farmers at the Outdoor Farm Show along with our dealer Embro Farm Systems. Here are some need-to-know show highlights and details.
About the Show
As Canada's premier outdoor agricultural showcase, the Outdoor Farm Show offers "one stop shopping" for farmers and highlights the most innovative and technologically advanced agricultural products and services available. Close to 43,000 attendees are expected.
2014 Features
The Outdoor Farm Show has some great new feature in 2014. A few that made our must see list are the Manure Spill Demo, Corn Silage Harvesting Demo and the Silage Bailing Demo. View our full line of manure spreaders and silage trailers. Check out more show features:
Show Hours
Tuesday, September 9th – 8:30am to 5:00pm
Wednesday, September 10th – 8:30am to 5:00pm
Thursday, September 11th ¬– 8:30am to 5:00pm
Daily Admission
$17 – Adults 18 and over
$5 – Youth 6-17 years
Free – Children under 6
Parking is Free
Purchase tickets online or at the gate.
Location
Canada's Outdoor Park
744906 Oxford RD 17 (At the corner of the 11th Line)
Woodtosck, Ontario
GPS coordinates for the front gate – Latitude: 43.153836 Longitude: -80.785189
Download Map ( )
Visit Artex in the Embro Farm Systems Booth
Come see the over 750 exhibitors at the show. Artex will be in the Emrbo Farm Systems booth. Embro farm systems is one of our Canadian dealers, to learn more about them please visit their website at www.embrofarm.com.
Free Show Apps
Technology lovers rejoice! The Outdoor Farm Show has a free app to download before to head out to the show. Now you can have all the show details at you fingertips. Available for Apple Android and Blackberry users.
Download Outdoor Farm Show App
Don't miss this opportunity to meet with farmers, take in educational demonstrations, and see the latest in equipment technology. Join Artex at the Outdoor Farm Show!