Make Sure Conditions Are Right For Spreading Manure
April 30, 2014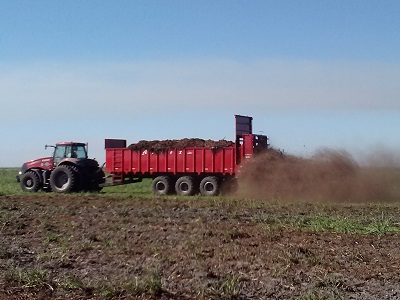 Is your manure storage getting full?  Are you itching to get your Artex Manure Spreader out in the field?  Well, we suggest that you consider waiting just a bit…
With how wet this spring is and with the abundance of snow we received this winter, you may want to hold off just a little longer.  Allowing your fields to dry out before you apply your manure will greatly reduce compaction of your fields.
Just as you wait for the conditions to be right for planting, you should wait for them to be right for spreading too. Spring time manure applications can be very challenging. The weight of the larger tractor, spreader and the manure itself on soft soils is a recipe for compaction.
Have you noticed in past years those fields in the summer that show "tire tracks" angling across the field as the corn or soybeans are trying to emerge?  Don't let that be you!
Remember to be patient this season, allow your fields to dry before spreading fertilizer, your reward will be well maintained soil structure and higher yields come fall!
All good things come to those who wait…good advice for Spring 2014!