If You're Full of Manure, We Have the Spreader with the Most Capacity
August 11, 2014
We already carry a great selection of SB Series manure spreaders…so you might be wondering why we would add new model?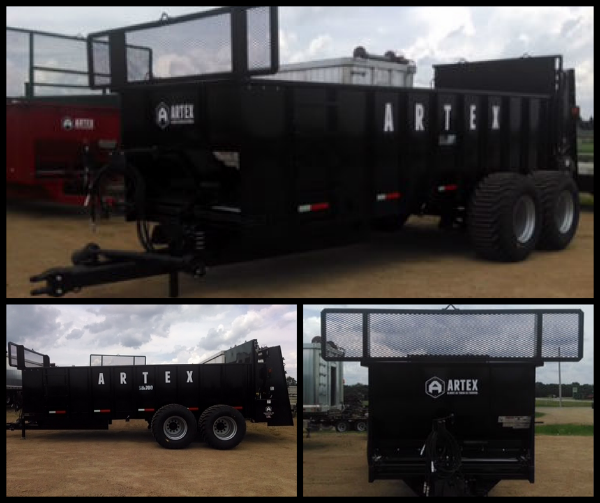 We listened to you and built a manure spreader that is wider, making it even easier to fill. Getting around the yard is no easy task? The SBX makes it much easier because it is shorter in length, therefore gaining capacity in the width. The SBX800 is our new low profile spreader. It gives farmers like you a higher capacity option in a low profile model, which can still be loaded with a skid loader.
We believe in enhancing and keeping up with the needs of our farmers, so we created the SBx for you, the hard working people we work with each and every day. You need more capacity to get your work done faster, which means you need the new SBX Manure Spreader.
SB Series Standard Features
Twin Vertical Beaters
Remote Grease Banks
Chain Floor
Spring Suspension
10 Gauge Steel Walls
180 Degree Swivel Arm for Hydraulic Lines
Guillotine Gate
Articulating Hitch
Poly Floor
The SBX Series is available in multiple sizes and colors. Find the right SBX for you!
Artex spreaders help you get the job done, load faster and haul more! Simply said, these are the strongest manure spreaders on earth.
Contact us today or click here to find a dealer near you!